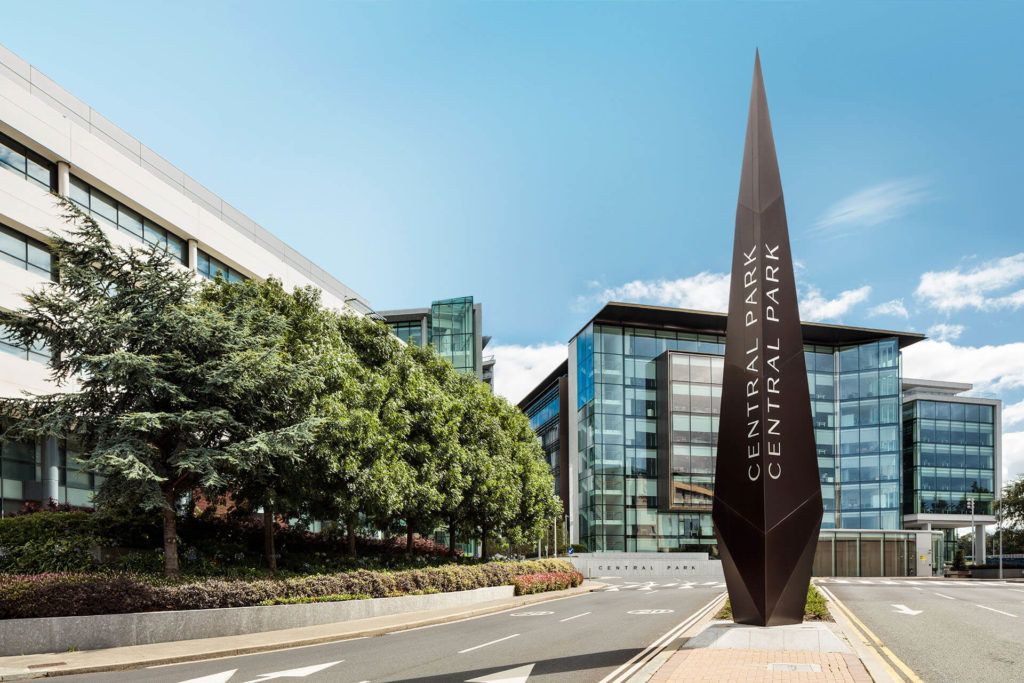 Central Park, Leopardstown
Central Park is located approximately 10 km south of Dublin City Centre, situated on the foothills of the Dublin Mountains. Central Park can be easily accessed from all parts of Dublin, including the nearby commuter counties (Meath, Kildare, Wicklow) via the M50 Motorway.
The Central Park Campus is arguably one of the best connected office developments in Dublin. The M50 Motorway provides rapid vehicular access directly to Dublin Airport. In addition, occupiers can avail of the Green Line Luas, connecting them to Dundrum Town Centre and Dublin City Centre.
TRANSPORT
Central Park is the most accessible suburban office campus in Dublin and is served by all major transport links. Central Park also has its own dedicated Luas stop.
Car
Adjacent to the M50 & N11
Luas Light Rail
Dedicated stop on-site (Green Line)
Bus
Shuttle Bus: private shuttle bus on-site serves City Centre & DART Station
Aircoach: dedicated stop on-site, departures every 10 minutes
Bus: stops at the park providing access to the city centre
Luas Travel Times
CENTRAL PARK OVERVIEW
Central Park is to embark on the next phase of its continued growth as Dublin's most desirable and sought after office campus. A further 508,000 sq.ft of office development is currently under construction and will provide state of the art office accommodation in addition to its existing 950,000 sq.ft which is already home to some of the world's leading businesses which include Salesforce, Vodafone, Google, Ulster Bank, Bank of America ML, Sage and AIB.
The quality of office accommodation in Central Park is widely acknowledged as "best in class", evidenced by the high quality occupiers already located here.